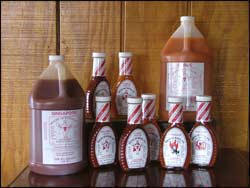 For many years, our chicken wing sauces have gathered acclaim at our hometown restaurant in Sayre, Pa. for being the best the Valley has to offer. Now these famous hot wing sauces are available for PURCHASE online.
Our recipes contain super cayenne pepper which not only gives our products their great hot sauce flavor but may also have additional health benefits. Cayenne pepper contains Vitamins A, C and B6. It can also improve blood circulation and can provide a boost to your immune system.
Our nine most popular chicken wing sauces can now be delivered to your home, allowing you to enjoy Alliger's hot sauce anytime. Our sauces are fully prepared and are ready to use right out of the bottle.
| | |
| --- | --- |
| | <![if !vml]> <![endif]><![if !vml]><![endif]><![if !vml]><![endif]><![if !vml]><![endif]><![if !vml]><![endif]><![if !vml]><![endif]> |
<![if !vml]> <![endif]>Large Volume Orders Welcomed
We welcome large volume orders for restaurants, food service and retailers. For our volume customers we pack our sauce into huge one gallon containers. Visit our online store www.store.houseofwings.com or call us at 570-888-9805 today.





<![if !vml]>

<![endif]>Inquiries about distributorships are always welcome. Click to buy our hot sauces now.
BBQ -
Classic barbeque flavor with a little bite. The special blend of spices is what makes this such a unique sauce.
return to flavors
Cajun -
Medium heat and packed with Cajun flavor! If you like a nice spicy flavor without too much heat, this would be the flavor for you!
return to flavors
Cayenne Pepper
Garlic - Garlic, garlic and more garlic! This sauce is loaded with rich garlic flavor and has a taste that nothing else even comes close too! One of our best selling sauces. return to flavors
Kamakaze - ~Caliente~ This spicy teriyaki hot sauce will leave your mouth watering! It is packed full of unique spices that make this a real hot treat! return to flavors
Honey Mustard - A unique blend of our honey lemon sauce twisted with our house mustard and a little bit of spice. If you like honey mustard, be sure to try this one! return to flavors
Hot - This is not your typical hot sauce. This sauce is packed with flavor and is sure to please! return to flavors
Nuclear - Do you even need to ask? If not, maybe you should! Are you really man/woman enough for this one? This sauce is what bets are made of here at Alliger's House of Wings! The name speaks for itself so try it if you dare! return to flavors
Singapore -
Oriental flavoring with a little bit of bite. Excellent flavor.
return to flavors
Southern - Tangy hot sauce (medium heat) with many unique spices. This sauce is sure to please! return to flavors
Not just for chicken . . . Alliger's House of Wings sauces make tasty marinades for your favorite meat. Whether you call them chicken wings, buffalo wings, hot wings or wings; Alliger's House of Wings Sauces will make them the best you've ever tasted. Buy your favorite Alliger's House of Wings sauce online at www.store.houseofwings.com. Low prices, fast shipping and secure transactions.